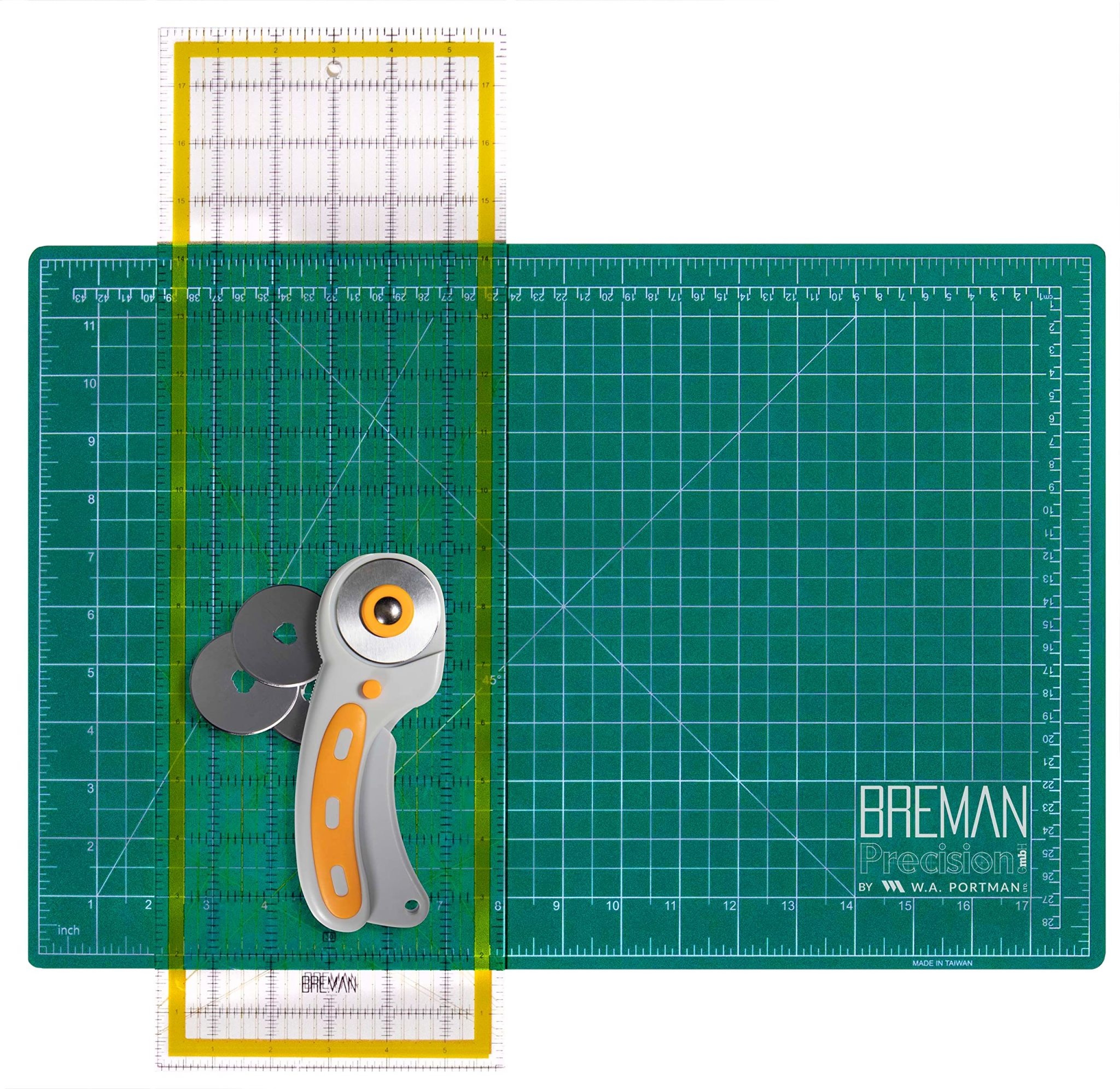 12x18 Rotary Cutter & Ruler Mat Set
An essential set for any quilter. Measure, cut and create with confidence knowing you have the right tools. Includes self-healing mat, one rotary cutter, 6x18 acrylic ruler, and 5 extra blades. Be prepared for any project with this set!
Superb Value Rotary Cutter With Mat And Fabric Ruler - 3 sewing essentials combined. This mat cutter ruler set includes a 45mm rotary fabric cutter, a 2-sided self-healing cutting mat, and a 6x18 inch acrylic quilting ruler.
Durable Fabric Cutting Mat - 2-sided, 5-ply self-healing PVC sewing mat is thick enough to withstand cuts and offers a full 12x18 inch grid surface with 1" and 1/2" grid and 1/8" ruler marks for precise alignment. 45° and 60° angle guides help meet your cutting needs.
Safety Rotary Cutter With 5 Extra Rotary Cutter Blades - The sharp yet safe rotary cutter for fabric has a dual-action safety lock and ergonomic clench handle to ensure safe and effective cuts. User safety is designed into our fabric cutters and craft cutting tools.
Easy To Use Quilting Ruler - Our 6x18 inch clear acrylic sewing ruler has precise measurements and black and yellow grid lines to make it easier to work with light and dark fabrics. 30°, 40° and 60° angle lines ensure exact alignment.
This product has a Prop 65 Warning
Article number CM1218/108560-618/SX766C/B766-5C-FL