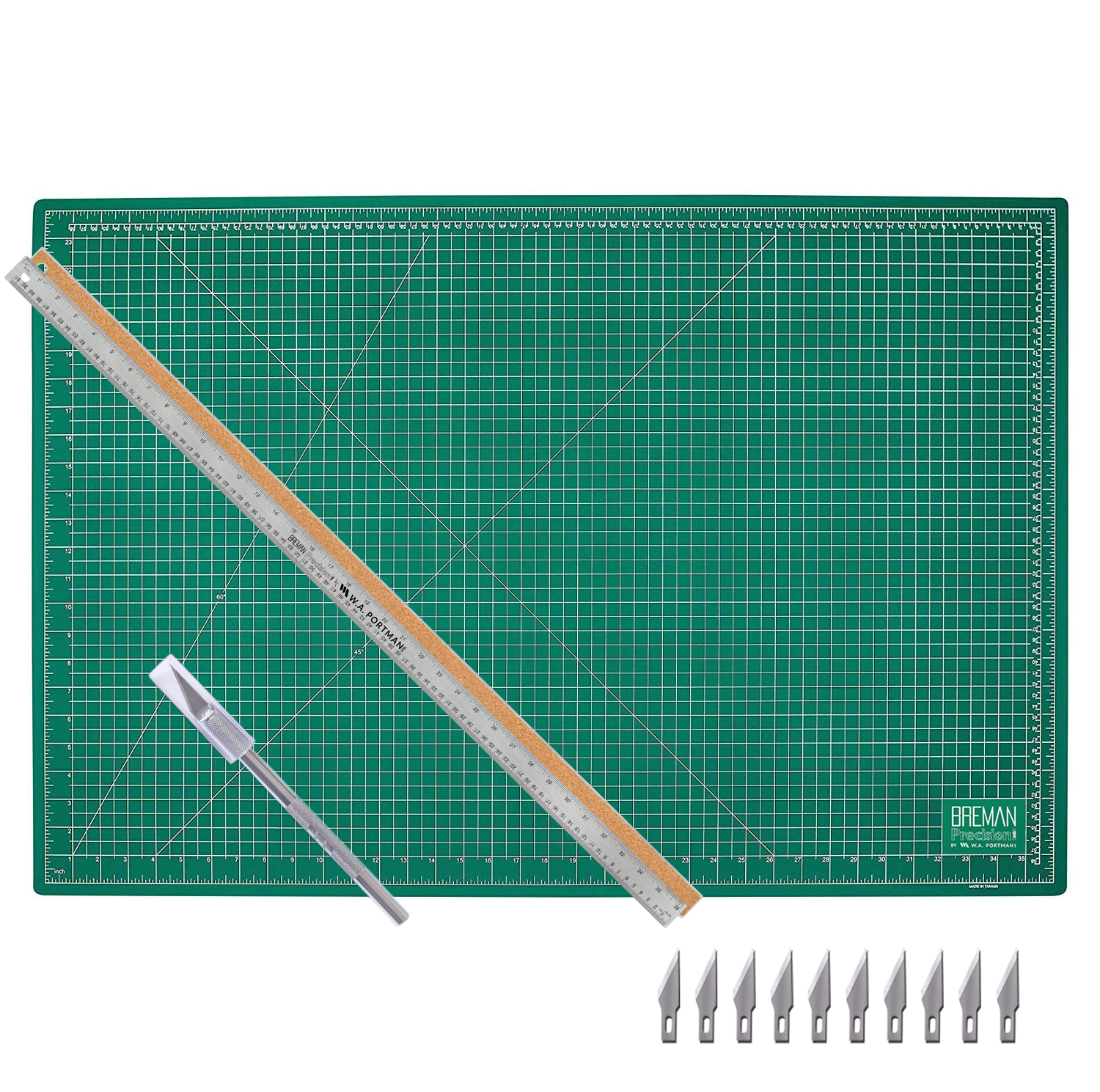 24x36 Craft Knife & Ruler Mat Set
An essential set for any crafter. Measure, cut and create with confidence knowing you have the right tools. Includes self-healing mat, one craft knife, 36" ruler, and 10 extra #11 blades. Get the perfect cut with this perfect kit!
Best Value Cutting Set - With a sharp yet safe pen craft knife, spare blades, a thick vinyl mat to cushion your table from these slices, and a non-sharp straight edge ruler to measure & guide your cuts, this is the best tool set yet for perfecting your arts, crafts, and hobby!
Precision Craft Knife - The scalpel sharp blade allows you to slice through paper, fabric, leather or cardboard with ease. Its heavy duty yet lightweight handle makes it easy to control each cut for perfect results. Spare blades fit all X-Acto knives!
Durable Self-Healing Cutting Mat - Our 2-sided, protective, fabric cutting mat gives you a full grid surface, with accurate 1" and 1/2" grid with 1/8" ruler marks for precise alignment and 45° and 60° angle guides to meet your cutting needs.
Cutting Ruler That Lasts - Our rust-proof, stainless steel cutting ruler comes with accurate inch & metric measurements with clear, visible markings. Cork backing holds the ruler steady, preventing ink from going under the ruler and making a mess! * Our 9x12 mat set comes w/ 12" steel ruler, 12x18 mat set comes w/ 18" steel ruler, 18x24 mat set comes w/ 24" steel ruler, 24x36 mat set comes w/ 36" steel ruler. *
Includes 10 Extra #11 blades.
This product has a Prop 65 Warning
Article number CM2436/MR36/SX01/B11-5cx2-FL